Care costs of a
stroke patient in Thailand
I am asked again and again: «What are the care costs of a stroke patient?» That's why I want to talk about money, I want to talk about why we decided against Switzerland and for Thailand.
Photos copyright: © Ann Amann
16 december 2022, 13:22 Uhr
Of course I had hope: After my 64-year-old husband had a stroke in September 2019, I assumed he would recover. I believed that the process would simply take a little time and that he would regain much of his previous independence.
Not enough for the health insurance
After 10 weeks of rehab at the Cereneo in Vitznau, the doctors in charge asked me to come in for a talk, where I learned that a test would have to be done with my husband every two weeks for the health insurance company to document how much progress he was making.
I was further informed, my husband was no longer making enough progress and therefore the health insurance would not pay for much longer. On my objection, «He is still making progress», I was told « Sadly, not enough for the health insurance». What a bad news!
My husband was in a wheelchair and needed 24-hour assistance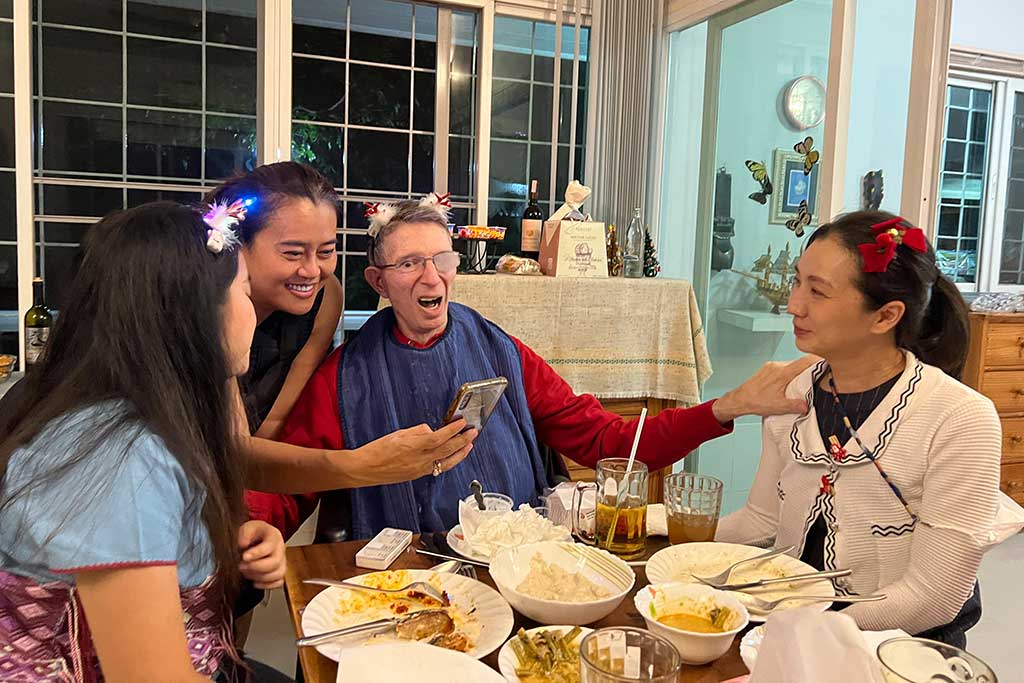 With mixed feelings I started to visit nursing homes in Switzerland and what I saw, smelled and heard I could not imagine at all for my beloved husband.
Decision against Switzerland
And at a frighteningly high price: the costs for a mid-range nursing home were around CHF 10,000 per month and more. What was offered for this had nothing to do with a supposedly luxurious standard.
I had to admit to myself that I would not find a good care option for my husband in Switzerland. Due to his stroke, his life had changed dramatically – mentally completely clear, but physically dependent on help for 24 hours, he still remained positive: «We will find a solution». And indeed we found the best possible solution for us.
For private care to Chiang Mai in Thailand
For many years we have had a small vacation home in Chiang Mai, Thailand, where we have always felt very comfortable. This experience gave me the following idea after my husband was discharged from rehab: Could Chiang Mai be the place where my husband could feel comfortable despite all his limitations?
Creating a family atmosphere
Across the street from our apartment in the middle of Chiang Mai, I managed to rent a large, wheelchair-accessible apartment. I hired two caregivers to share this apartment with my husband. I also employed a cook part-time. From then on, my husband was never alone – there was always one, usually even two caregivers with him and we often had visitors.
Fitness, massage and chauffeur
In the apartment building there was a gym and a pool where he regularly exercised and swam with his caregivers. There were three massage studios and a hairdresser within walking or wheelchair distance. For regular excursions, we were able to hire a driver with a spacious car.
Excellent care in the hospital
The Bangkok Hospital Chiang Mai with their excellent doctors and caring nurses could always help when Martin's health was not so good or when he needed medication. The costs were covered by Martin's international health insurance.
All this was very positive for my husband's well-being. But was it also affordable? YES – it was! I have drawn up an approximate cost breakdown from my experience, which provides information here:
This is the range of monthly private care costs for a stroke patient or private patient in Chiang Mai, Thailand.
| Cost factor | Thai Baht | Euro | USD |
| --- | --- | --- | --- |
| A wheelchair accessible apartment with 2 bedrooms, 2 bathrooms, living room and kitchen. | 20'000,- to 40'000,- | 540,- to 1.081,- | 575,- to 1.150,- |
| A caregiver with experience | 20'000,- to 30'000,- | 540,- to 808,- | 575,- to 860,- |
| Food and drink | 15'000,- to 25'000,- | 404,- to 677,- | 430,- to 720,- |
| Incidental expenses | approx. 10'000,- | 272,- | 290,- |
| 60 minutes massage | approx. 1'000,- | 27,- | 29,- |
| Acupuncture (per session) | 500,- | 13,60 | 14,50 |
| Excursion ½ day with driver | ca. 2'000,- to 4'000,- | 54,- to 109,- | 58,- to 116,- |
Martin's alternative to a nursing home in Switzerland